Free Download RemotelyAnywhere 12 offline installer for Windows. A powerful remote administration and control tool industry leading security and performance for remote administration.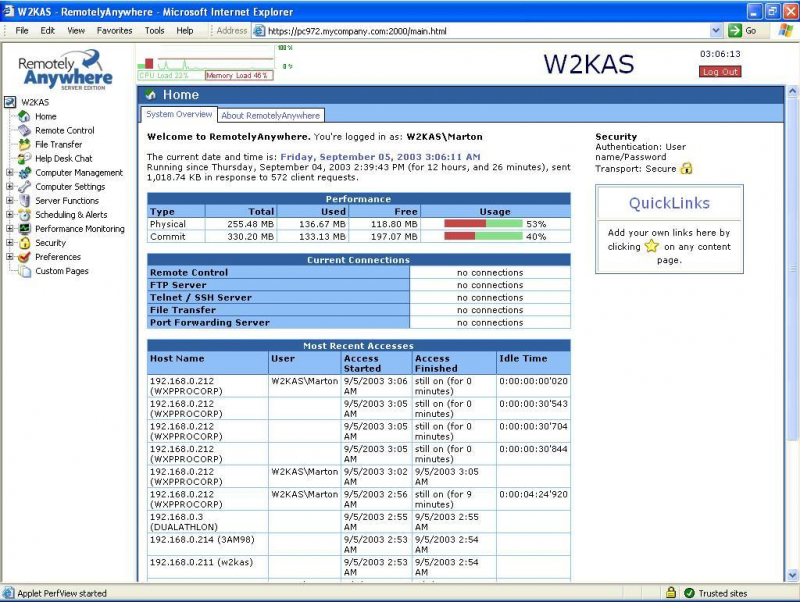 RemotelyAnywhere is a powerful remote administration and control tool. It offers industry leading security and performance for remote administration. RemotelyAnywhere software allows you to remotely administer your computer over the web.
Features for each version of RemotelyAnywhere:
Server Edition provides real-time performance, connection, hardware and registry information so you know exactly what's going on and when. This gives you access to the nuts and bolts of your system so that you can perform the diagnostic tests you need in order to keep your servers running smoothly.
Workstation Edition helps system administrators keep IT systems up and computer users happy by offering the industry's richest remote-support toolkit.
Network Console is the perfect tool for system administrators to detect, control and deploy RemotelyAnywhere on computers they support. This application runs on the administrator's PC and allows them to instantly remote control, access and configure any of the computers on the network that have RemotelyAnywhere or LogMeIn IT Reach installed.
RemotelyAnywhere Features:
Remote Control: Fast, reliable access to your network or PC desktop and file structure.
Background Access: Access user machines without interrupting their work.
File Transfer: Easily transfer files and folders between local and remotely accessed computers.
SSH Access: Operate your network services securely over an unsecured network with SSH. odbc-logging-svg
ODBC Logging: Securely manage SQL Server Databases with OBDC logging.
FTP Server: Highly configurable and incredibly stable File Transfer Protocol.
Supported Operating Systems:
Windows 7, 8, 8.1, 10
Server 2008 R2, 2012R2, 2016, 2019
Remote administration right from your browser