Free Download SAM Broadcaster PRO 2021 offline installer for Windows XP, Vista, 7, 8, 10. Professional Internet broadcasting DJ automation tool that enables you to start your very own Internet radio station.
SAM Broadcaster PRO is your Online Radio Solution. SAM Broadcaster has everything you need for a professional online radio station or for personal use. SAM Broadcaster delivers professional audio with cross fade, fill in the gaps, beat matching, standard volume, 5-stage decompressor. SAM Broadcaster also has the ability to compress Plusv2, mp3, mp3PRO, WM9, and Ogg application control code – playing on Winamp, Windows Media Player, Live365, and MusicMatch.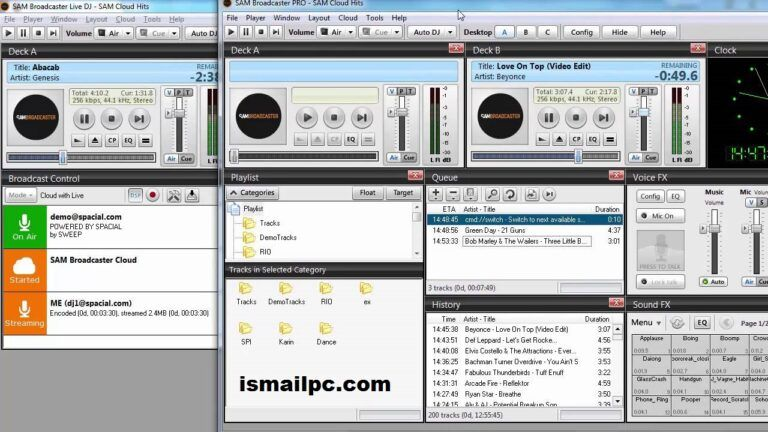 The main interface of SAM Broadcaster Pro is divided into zones, very clear for monitoring and management. Here you can add music, effects for voice, tracks as well as create and manage playlists,... The program comes with a pretty good stream encoder, works with mp3PRO formats, OGG, WM9, MP3, and aacPlusv2.
SAM Broadcaster Pro does its job well, packed with useful features, and is easy to use for both new and experienced users in the broadcasting industry. Download SAM Broadcaster Pro to create your own radio station.
Features of SAM Broadcaster PRO:
Stream in multiple formats: AAC, aacPlus, AAC-HE, MP3, mp3PRO, Ogg and Windows Media
Servers include: SAM VIBE, CheapestStream.com, SpacialNet.com, Shoutcast v1, Shoutcast v2, Icecast and Windows Media
Web integration: Give your website a professional look with the built-in web widget. This feature will encourage listeners to engage in interactions, find information and even request favorite songs
Audience statistics and reports: See audience growth in real time. Access data logs to view activity reports and other useful reports about your station history
Media library: Quickly organize large music libraries by category, import information from tags, and automatically search for information via Amazon.com
Dual Deck Players: This feature allows you to queue the next songs while another song is playing, or let Auto DJ do the job automatically. You can even fade out the music as you transition between songs, listening through headphones before delivering it to your audience
The smart crossfader automatically detects the best spots to start fading the music, or you can do it manually.
Gap Killer will ensure no silence between songs, make sure music is played continuously during broadcast
Live DJ Editing: Manage multiple DJs, SAM VIBE Cloud solution integration, SAM VIBE integration, auto-presentation of top station lists, 12-month upgrade and support.