Free Download GPU-Z 2 offline installer for Windows 11, 10, 8, 7, Vista, XP. A lightweight utility designed to scan your computer system and display information regarding video card and GPU.
What's new in GPU-Z 2.48.0:
Added new "DLSS" section to Advanced Tab, which will locate all installed games with DLSS support and report their DLSS version
GPU-Z will no longer send traffic to www.techpowerup.com and uses www.gpu-z.com exclusively, which makes it easier for IT administrators to block traffic originating from GPU-Z. All previous endpoints on techpowerup.com will be disabled soon, please update your firewall rules accordingly
When an NVIDIA Engineering Sample GPU is installed, GPU-Z will block all network activity (feature request by NVIDIA)
Many improvements to Intel Arc detection, sensors, reporting and specs
Renamed Intel discrete GPU power sensor to "GPU Chip Power Draw" to clarify that it does not measure whole board power, but GPU chip power only
Improvements to Chinese translation
Added detection for Advantech vendor Id
Fixed fan speed monitoring on Intel DG1 with newer drivers
Fixed RTX 3080 12 GB release year
Fixed Ryzen 5800H release date
Fixed RV670 die size
Added support for NVIDIA GeForce RTX 3050 OEM, MX550 (TU117-A), RTX A5500, A5500 Mobile, A4500 Mobile, A3000 12 GB Mobile, A1000 Embedded
Added support for Intel Core i5-1230U, several new Arc SKUs
Added support for AMD FireStream 9170
Read the full GPU-Z release notes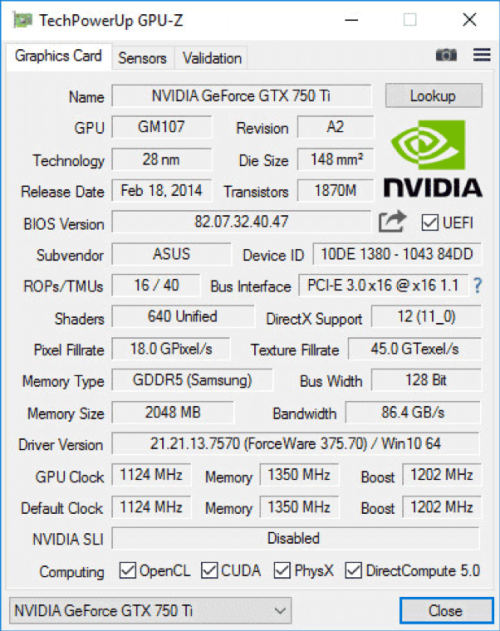 GPU-Z is a lightweight utility designed to scan your computer system and display information regarding video card and GPU. It gets you acquainted with a wide array of technical specification, thus enabling you to have a better knowledge of your computer's abilities.
GPU-Z features support for the latest NVIDIA and ATI cards and includes a GPU load test to check PCI-Express configurations. In addition, it grants you permission to default clocks, 3D clocks (if any) and overclock information. Reports are incredibly detailed, containing specifications about basically, every characteristic of video cards, such as name, GPU, process technology, chip, memory type, DirrectX / PixelShader support, memory bandwidth, type of bus, memory clock, version driver, sensors, speed fans and version BIOS. You can save the complete report on the sensors as a text files.
GPU-Z is also able to take pictures of the report and export it locally or to a free image hosting service so you can easily share it with your friends across the Internet. Assessing the graphic capabilities of your video card is a very important task. GPU-Z can easily accomplish that for you; it satisfies the needs of the regular home users and professionals alike, such as system administrators.
All in all, hardcore users who constantly need to know what's going on under the hood of their machine are going to appreciate GPU-Z and its accurate reports. Since searching for these results through traditional methods can be a very difficult task, you can use this nifty application to offer you a complete overview of your video card's graphic capabilities.
Main Features of GPU-Z
Support NVIDIA and ATI cards
Displays adapter, GPU and display information
Displays overclock, default clocks and 3D clocks (if available)
Validation of results
No installation required.
Version History GPU-Z v2.39:
Added support for Intel Rocket Lake Integrated Graphics
Added support for NVIDIA RTX 3060 Mobile, RTX 3050 Ti Mobile, RTX 3050 Mobile, RTX A5000, T500, CMP 30HX, CMP 40HX, CMP 90HX
Added support for AMD Radeon RX 6900 XTXH, Radeon Pro W5500M, Barco MXRT 4700
Integrated screenshot feature now captures the proper window area on Windows 10 (no longer includes the window shadow)
VRAM usage sensor removed on NVIDIA cards running in TCC mode, due to unsupported NVIDIA API
XML dump now includes fields BIOSUEFI, WHQL, DriverDate, DXR, DirectML, OpenGL and ResizableBAR
Added memory type detection for Intel i740
Fixed Resizable BAR detection on some systems (mostly laptops)
Fixed clock readings on AMD Mobile RDNA2
Fixed OpenCL detection on some rare systems
Fixed memory clock readings on NVIDIA GeForce 6
Fixed BIOS date on some legacy ATI cards
Fixed release date for ATI RV200 and NVIDIA NV41M