Free Download NVIDIA Pixel Clock Patcher offline installer for Windows Vista, 7, 8, 10, 11. Modifies the NVIDIA video driver to allow higher resolutions and refresh rates by removing the 165 MHz pixel clock limit for single-link DVI and HDMI.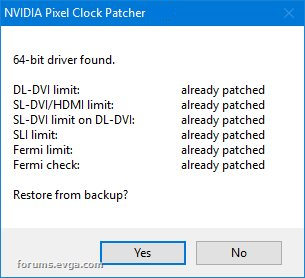 NVIDIA Pixel Clock Patcher is a small tweak for NVIDIA graphics cards that removes the imposed restrictions on refresh rate and resolution, so you can enjoy smoother and sharper pictures. No need to install tweaker, after launch it will detect the presence of the tag and no matter what system architecture you have. Next, it will analyze all the parameters of the video driver and GPU, the screenshot clearly shows what limitations you can remove.
Getting started:
Run nvlddmkm-patcher.exe. (Catleap/QNIX/Tempest/X-Star users with 400/500-series GPUs: run nvlddmkm-patcher-full.exe instead.)
If all limits are found, click "Yes" to patch and sign. If a limit is not found or if multiple matches are found, the patcher needs to be updated.
Reboot.
You can then add higher refresh rates using the NVIDIA Control Panel or Custom Resolution Utility (CRU).
To restore the unpatched driver, run the patcher again and click "Yes" to restore from backup.
Unpatching is not required before upgrading drivers. Simply run the patcher again after installing the new driver.
Requirements:
Windows Vista or later
400-series GPU or newer.